Are you ready to experience the "Bad Boys From Boston?" That's right, the mostly-original lineup of Steven Tyler, Tom Hamilton, Joey Kramer, Joe Perry and Brad Whitford is still going strong nearly 5 decades on, with an unbelievable stage show that channels their incredible energy every bit as much as it did when they were young. Now they're bringing the show to Las Vegas for a very special limited residency, giving fans around the world the chance to see their greatest show yet. Ladies and gentlemen, choose your show from the list below and get your tickets now for Aerosmith: Deuces Are Wild at the Park Theater Las Vegas.
Aerosmith Tickets: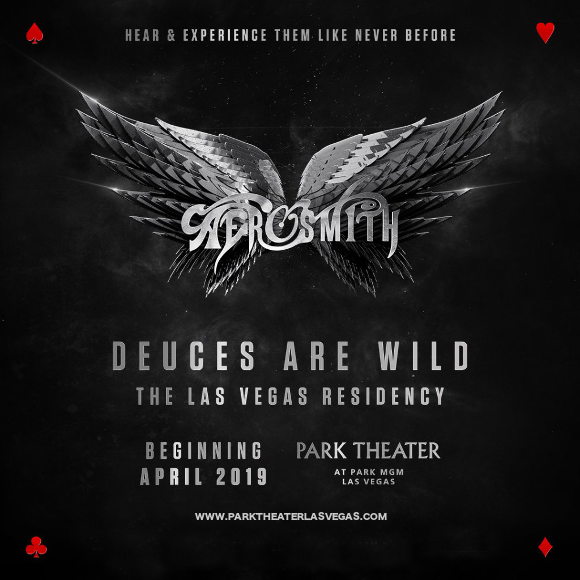 Signed to Columbus Records in 1972, they released their debut, self-titled album in 1972, and their second, "Get Your Wings," two years later, beginning to develop their following, and broke into the mainstream with "Toys In The Attic". Towards the late 70s, they had become one of the most popular rock bands in the world, with a huge fan following referred to as the "Blue Army". Those first few albums went on to achieve Platinum status. After experiencing problems with drugs and alcohol, the band took a hit in the 80s, having to take time away from touring to recover and find new band members.
"Aerosmith kept things simple and let their still-potent magnetism lead the charge. Impressively, that was more than enough" – Rolling Stone
They returned with a bang, with a collaboration with rap group Run DMC when they covered "Walk This Way," from the band's second album "Toys In The Attic." With an emormously popular video, depicting the rival bands rehearsing in neighboring studios before Steven Tyler breaks the wall down and the two perform onstage together, the collaboration was one of the first tracks of its genre to hit the mainstream media. The song helped to popularise the emerging rap-rock genre, catapulted Run DMC forward as a major rap group, and was the first step in revitalising Aerosmith's popularity.
Aerosmith went on to release "Permanent Vacation," spearheading their return to public prominence. The album featured the hit songs "Rag Doll," "Dude (Looks Like a Lady)," and "Angel," and has to date sold over 5 million copies in the US alone. From there, their success knew no bounds, with one best-selling album after another and a stream of major chart hits. Today, with more than 150 million records sold around the world, Aerosmith are one of the best-selling bands on the planet, with an influence and legacy few can claim to compare to.
"Aerosmith will not be relinquishing their crown as America's greatest rock and roll band any time soon" – AXS
With their farewell tour last year, fans thought it was all over for the legendary rockers. "We thought it was gonna be a good idea when we first started plotting the European run," guitarist Joe Perry explained. "We all have lives outside of the band. We grew up together, went from being kids in the apartment to a long and storied career, so we thought 'it's time'…Then we were in South America doing interviews and we couldn't ******* say it, that there was gonna be a last gig. We were looking at each other going 'really? Are we really gonna say this is the farewell tour?' So we kinda changed our minds."
It's good news for fans, as is the announcement of their big residency show at Las Vegas, making use of the Park Theater's state-of-the-art lighting, sound and effects to create an immerse Aerosmith experience the likes of which their audience have never seen before. "What we want to do is something that I haven't seen before," Perry continued, explaining the thinking behind the Deuces Are Wild show. We want to do something different. We're in the middle of the production now. What we're talking about is having an experience that you wouldn't be able to see on a regular Aerosmith tour."
No true Aerosmith fan can afford to miss what the band are cooking up for us at the Park Theater Las Vegas. What are you waiting for?? Get your tickets now – they aren't going to last long!!